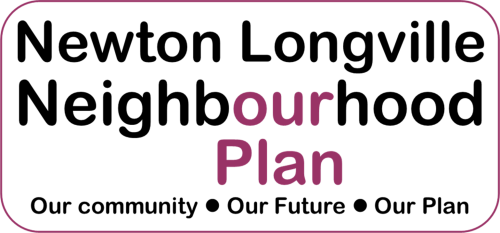 The October/November 2020 issue of the Village Pump has information on pages 9 to 11 with details on progress on the proposed Newton Longville Neighbourhood Plan. In addition there is an insert with an informal consultation on a draft Settlement Boundary. The text below is based on that in the Village Pump and insert. The pages of the insert may be downloaded. See below for how to respond to this consultation or to propose land for development in our "Call for Sites".
Download insert pages:
Introduction
Defining a Settlement Boundary
Often a Local Planning Authority will define settlement boundaries as part of their Local Plan, however Aylesbury Vale District Council did not do so. The Parish Council consider it is appropriate to define a settlement boundary within the Neighbourhood Plan.
An agreed methodology is used to define where the settlement boundary should be. For more information about the methodology used to define the draft Settlement Boundary or download a copy of this insert, see our website www.Newton-Longville.com or contact the parish council office. (Note, a document with the draft methodolgy used is being finalised and will be published later.) More general details about settlement boundaries are available in links below.
A settlement boundary is a dividing line between areas of built development (the settlement) and non-urban or rural development (the open countryside). Although this does not preclude all development beyond the boundary, it gives clarity as to where new development (particularly housing) is likely to be acceptable in planning terms.
The boundary is drawn as tightly as possible, essentially along the back gardens of properties on the outskirts of the village. This is the dashed line on the map inside this leaflet. The boundary does, for example, not include agricultural buildings or land, and excludes sites that have not been yet built on, even if they have planning permission.
A settlement boundary can surround more than one area, such as if there was a significant hamlet or second village within the parish but this is not the case for us. The two groups of houses on Bletchley Road nearest the rail bridge are too few to be included within the boundary. This does not mean that individual, or small groups of houses outslde of a settlement boundary are not part of the village, but they are treated as being in the open countryside and so given greater protection.
In defining the draft Settlement Boundary the base map used is the Ordnance Survey (OS) MasterMap Topography Layer, as well as land ownership boundary records from Land Registry (LR), using the most recent update from September 2020. The OS map is designed to be used at a scale of between 1:1250 to 1:10 000. Boundaries as shown by both OS and LR are 'general boundaries' and are not definitive as to the precise position of boundaries, see detail on Land Regisry website at: http://bit.ly/MapBoundaries and a website describing issue with boundary problems: http://www.boundary-problems.co.uk/boundary-problems/titleplans.html
This consultation is on the line of the draft Settlement Boundary, not detail on the map, however we are aware there may be discrepancies in the OS base map. If you believe there is a discrepancy, please let us know and we will investigate. If need be, we will raise with Ordnance Survey.
Inclusion of land within a settlement boundary does not mean that all land within the boundary is automatically suitable for new development. There may be areas of land within the settlement boundary that is not suitable for development due to other constraints, for example, where there is land protected as Local Green Space (to be identified through the neighbourhood planning process) or areas of special character (for example areas that would have an impact on the setting of listed buildings).
The benefits of establishing settlement boundaries are as follows:
Ensure development is directed to the most suitable locations both in terms of accessibility to and in support of existing services and transport, and in terms of landscape and the historic environment.
Protect the special character of the Newton Longville and its landscape in order to maintain the character and distinctiveness of the village.
Provide greater certainty to communities, landowners and developers over where certain types of development could be acceptable in principle.
Support the plan-led approach to development, giving a local context to the strategic intention of providing sufficient housing to meet the OAN (Objectively Assessed Need) of the parish.
Review of sites by consultancy AECOM The multi-disciplinary consultancy AECOM, funded by the government to assist us, are independently carrying out a technical assessment of all sites promoted for development within the parish boundary. Following this technical assessment by AECOM a list of sites they consider to be suitable, available and viable will be ranked by the Neighbourhood Plan Steering Group and Parish Council. Residents will then be consulted on which sites should be taken forward through the Neighbourhood Plan. Call for Sites The Call for Sites carried out by Aylesbury Vale District Council (AVDC) dates back to May 2014 or earlier. Therefore a Call for Sites is being carried out by the parish council (see details on page 11)
Consultation - Newton Longville Parish Council want YOUR views
How to let us have your views:
Use the consultation form or write a letter or email.
By post or drop off at Longueville Hall (use post box at top of drive)
Email to

This email address is being protected from spambots. You need JavaScript enabled to view it.

Please let us know with a Yes or No if you agree with the proposed draft Settlement Boundary? Please give your reasons and any comments and include your name and address or email address.
If you believe there is a discrepancy in the base map, please let us know and we will investigate. If need be, we will raise with Ordnance Survey.
For your views to count you must include your name and contact details. All replies must be received by 20th November 2020. All information provided will be handled in accordance with Data Protection law.
Call for Sites - Do you know of land suitable for development?
Newton Longville Parish Council, through the Neighbourhood Plan Group, is seeking to identify land that may be suitable, available and viable for future development within the parish council boundary.
Landowners, developers and the wider public are invited to put forward potential development sites. If you wish to propose a site suitable for inclusion in the Neighbourhood Plan, forms to submit sites are available on request either by email to This email address is being protected from spambots. You need JavaScript enabled to view it. or by writing to the parish council office.
Even if you have previously submitted a site for consideration through Aylesbury Vale District Council's Call for Sites, you may wish to make a proposal now which could be for part of a site previously proposed.
Whilst we are particularly interested in smaller sites for provision of housing, proposals may be made for other sites and uses as well. We are particularly interested in a site for an additional play area (ideally closer to the centre of the village and further from Hammond Park) and potentially for an additional burial ground.
It is important to note that the promotion of land does not mean the site will proceed to a detailed assessment or allocated for development through the Neighbourhood Plan and also does not imply the parish council considers that the site is suitable for development, or that planning permission will be granted.
Sites promoted will be subject to the Neighbourhood Plan process including public consultation. All forms should be returned to the parish council no later than 20th November 2020.
Guidance on Settlement Boundaries
Guidance from elsewhere and examples of methodologies used by other Neighbourhood Plans