LANDFILL SITE - Planning Appeal - Public Inquiry against refusal of permission to extend operational life of site to 2037
The public inquiry started at 10 am on Tuesday 6th July. Submissions were made on procedural matters and the inquiry was adjourned. It resumed on Tuesday 13th July to consider the linked Lagoon Appeal ("Appeal B") that the parish council is not taking part in (the site is wholly in Milton Keynes/West Bletchley).
The inquiry has now due to resume on Tuesday 19th October 2021 at 9:30 am. Before this a new or addendum to the Environmental Statement (ES) will be produced, followed by publicity and consultation on the ES. The inquiry hearings may be watched on YouTube.
Day 1 - 6th July
Day 2 - 13th July
Day 3 - 14th July
The parish council has submitted that in accordance with the Environmental Impact Assessment Regulations the appplication would have a "significant effect on the environment" and asked the Inspector to seek a Screening Direction from the Secretary of State (SoS). The SoS agreed and issued a Screening Direction on 1st July 2021, requiring an Environmental Statement to be produced.
"Rule 6" status means Newton Longville Parish Council is a main party to the appeal. It submitted a Statement of Case. If you have any information about impact on residents that you think may help with this please get in touch by emailing: This email address is being protected from spambots. You need JavaScript enabled to view it.
How you can take part in the appeal. The Planning Inspectorate have provided information for anyone wishing to take part in the inquiry. See more details below.
Newton Longville Parish Council thanks all who attended the public meeting on 4th May.
At the special Parish Council meeting after the public meeting it was decided that the PC:
supports other local councils in strongly objecting to the extension of the current landfill operation due to the impact on residents.

notes that in considering its response little information has been available on how the site will be restored without voids being filled with waste as originally planned. If the Appeal is refused then steps clearly need to be taken by Milton Keynes Council, Buckinghamshire Council and the Environment Agency to ensure that communities in this area are not negatively impacted by the consequences of that decision over the long term (including any potential issues with land stability, slippage, associated drainage, leachate leakage and gas treatment).


will seek Rule 6 status in the Appeal.
Planning Appeals references 3271410 and 3273179 - Bletchley Landfill Site, Guernsey Road, Bletchley
Inquiry to open at 10.00 am on 6th July 2021
Anyone wishing to attend the inquiry must make that interest known to the Planning Inspectorate Case Officer as soon as possible prior to the Inquiry, either by email or telephone after reading the Inquiry Attendance Information set out below. When contacting the Case Officer, it would be helpful if you could confirm whether you want to take an active part in the proceedings or anticipate attending just as an observer (see below).
Inquiry Attendance Information
Before deciding whether to take an active part in the Inquiry, you need to think carefully about the points you wish to make. All written submissions from application and appeal stage will be taken into account by the Inspector and re-stating the same points won't add any additional weight to them. If you feel that taking part in the Inquiry is right for you in whatever capacity, you can participate in a number of ways:
To take part using video, participants will need to have access to Microsoft Teams (via an app or web browser). This link gives further information on how to use this: https://support.office.com/en-us/teams.
Alternatively you can take part by telephone. Calls would be to an 020 number which will incur charges. See: https://www.gov.uk/call-charges
If you just wish to observe the event, you should make that clear in your response to the Case Officer.
If you wish to take an active part in the proceedings, please make clear in your response whether you wish only to appear at the Inquiry and make a statement, or whether you would also wish to ask questions on particular topics. If you want to take an active part but feel unable to for any reason, and/or the points you want to make are not covered in the evidence of others, consider whether someone else could raise them on your behalf
Registered participants in whatever capacity will receive individual joining instructions, providing details of any requirements, guidance and support, whether joining by Teams or telephone
Planning Inspectorate Case Officer: This email address is being protected from spambots. You need JavaScript enabled to view it.
---
Newton Longville Parish Council asked the site operators FCC to attend and explain why they want to extend the life of the site and to answer public questions. However they have said they are unable to attend the meeting but have instead provided the statement below.
FCC have said that as at September 2020 there was 9,908,295 cubic metres of void remaining at the site, with current tonnage approximately 70,000t per month. One issue raised if the site does cease landfill operations in 2022 is what happens to the remaining unfilled clay pit voids.
A campaign group, organised by Newton Leys residents and others, has been setup, see Facebook Group Say No to Bletchley Landfill and their website www.SayNoToBletchleyLandfill.co.uk a representative of the campaign will be attending the meeting.
When planning permission was granted by Milton Keynes Council for the housing development in what is now Newton Leys, it was on the basis the landfill site would cease operations in 2022, followed by a year of restoration works.
FCC as the current site owners and operators wish to extend the time period for use of the site for landfill by fifteen years, from 2022 to 2037, followed by a further two years for restoration works. They also wish to change the restoration scheme as well as the operational hours and Saturday hours. The main reason is due to the reducing need for landfill. Very little waste from MKC now goes to landfill. Most of the waste does not come from Bucks but from elsewhere in the South East. FCC's case is the site is of strategic regional importance. Currently the "cells" within Buckinghamshire are already filled. The main impact of the continuing operation of the site is on Newton Leys.
The planning application to Milton Keynes Council (MKC) was recommended for refusal by the planning officer. It was considered by MKC's Development Control Committee (DCC) on 3rd September 2020 and unanimously refused. A good background to the application is in the report to the committee and the debate at the MKC DCC meeting is available to view on YouTube. A decision notice was issued on 25th September 2020 giving the reasons for refusal as: The reason for refusing your application were given as:
"The continuation of the existing operation (the development) would be unacceptable in terms of negative impact upon amenity of the local community in the longer term. A further fifteen years in operation would be harmful to the relative enjoyment of the community. The associated postponement of the restoration works would result in a loss of opportunity for the community to benefit from open space recreation as originally agreed. The application is therefore contrary to Policy D1, D5, NE5 and NE6 of Plan: MK (2019) and Section 8 of the NPPF (2019)."
Under current permissions, the Landfill operations are due to cease in 2023 with remediation completed within a further 12 months. An application to MKC in 2007 to extend this was refused.
The planning application by FCC, the current site owner and operator, was to:
extend the operational life of the site from 2022 to 2037

extend the period for remediation from a further 12 months to 24 months (so 2039)

change operational hours

revise the restoration scheme

amend Saturday operational hours.
Under an application submitted to Bucks County Council (BCC) in 1995 as 95/1362/AWD, but ultimately granted by BCC and as well as MKC in 2002 (as MKC became a unitary in 1997 and so responsible for waste planning applications) the site is due to cease opertations in 2022 and restoration completed within a further 12 months.
The application to MKC is: 20/00678/FULMMA
For: Variation of conditions 2 (operational life), 3 (restoration sequence) and 5 (final restoration of the site) attached to planning application MK/806/95 to extend the operational life of the site by 15 years with final restoration of the whole site to be completed within a further 24 months.
At: Bletchley Landfill Site Guernsey Road Newton Leys Milton Keynes MK3 5FR
A similar planning application was also made to Buckinghamshire Council: CM/0018/20 The application to Bucks was refused based on technical issues raised by the parish council about the legal basis of the application. FCC have said they do not intend appealing against the refusal by Buckinghamshire Council as all the cells in Buckinghamshire are already filled.
The other refused application to MKC is: 20/00849/FUL
For: Construction and operation of a surface water attenuation lagoon
At: Bletchley Landfill Site Guernsey Road Newton Leys Milton Keynes MK3 5FR
Statement provided on 23rd April 2021 by FCC Environmental for Newton Longville Parish Council
"In 2020, FCC Environment applied to Milton Keynes Council to extend the operational life of our Bletchley Landfill for a further 15 years, with the final restoration of the whole site to be completed within a further two years.
The application was refused and we are now appealing against Milton Keynes Council's decision to refuse the extension of operational life for our Bletchley Landfill Site. The site is a strategically important waste disposal facility with a signifiaently would constrain our ability to provide future public access. The incomplete landform would in turn create issues with long term surface water management and environmental management controls and create conditions where risks to the environment are increased.
Like all landfill sites, Bletchley is highly regulated by the Environment Agency at all stages of its lifetime. As one of the UK's leading waste management businesses, FCC Environment operates its facilities and sites in a professional, compliant and highly responsible manner and has continued to provide these essential services throughout the pandemic.
FCC Environment is committed to ensuring that more of the country's waste is recycled or recovered to avoid landfill. In recent years, recycling has increased, and overall the amount of waste sent to landfill has fallen. However; there still remains a need for landfill for waste materials that cannot be recycled or recovered and the site provides a strategically important disposal point for these wastes. Landfill sites are tightly regulated at all stages, and completion of a site's restoration is essential for the long-term stability and environmental management of the site.
It is worth noting that FCC Environment supports the Landfill Tax Fund initiative with 10 percent of all landfill tax takings coming back to the community via FCC Environment Community Foundation which, over many years, has supported and continues to support a vast range of community projects in the area within a ten-mile radius of its facility. Over the past five years alone, we have supported 33 projects within a ten-mile radius of the site with over £2,607,000 in funding, and we encourage any other suitable community projects to apply for such funding."The appeal was lodged in March and the planning inspectorate has provided a public inquiry start date of 6th July. At this stage the planning inspectorate has indicated that this may need to be a virtual inquiry due to COVID restrictions. Further information on the appeal can be found on the planning inspectorate's website."
Map provided by FCC showing cells as at May 2018.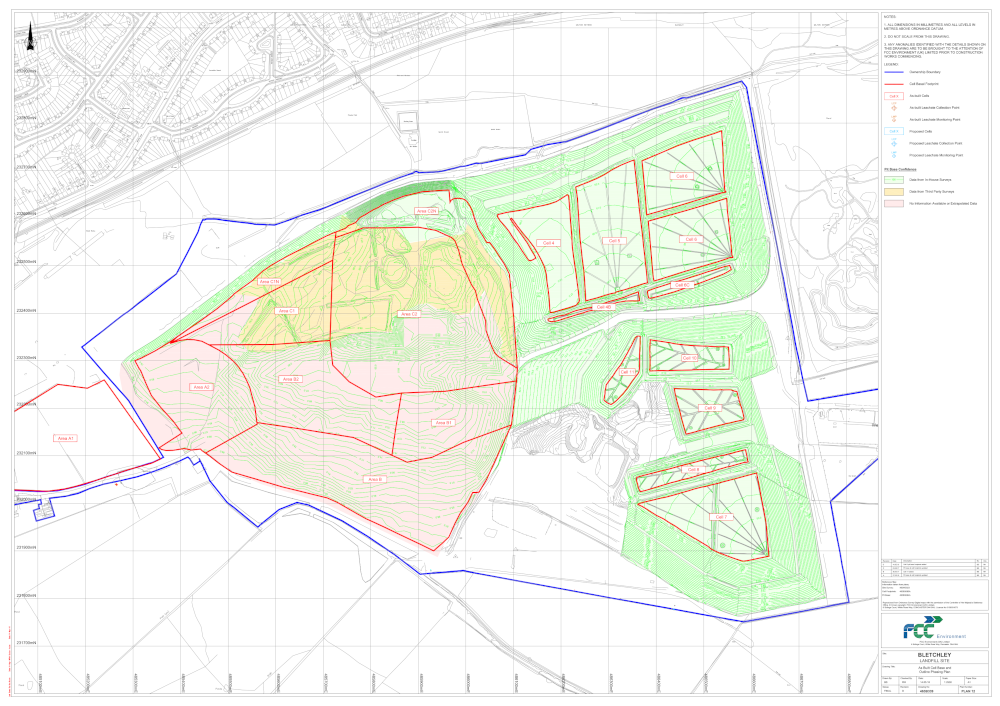 Map provided by FCC showing cells as at March 2021.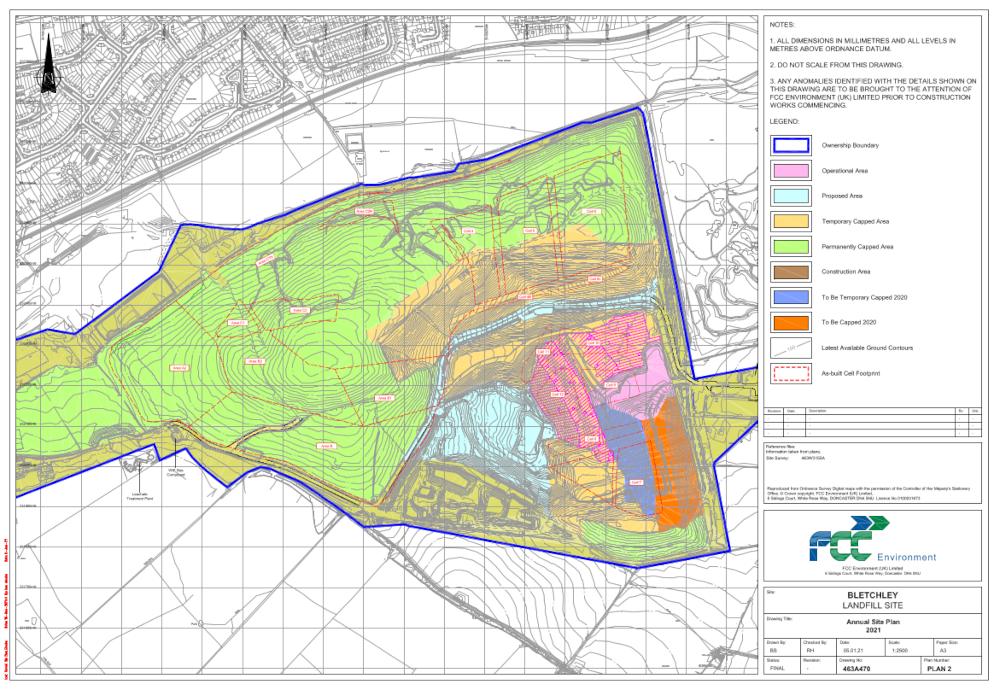 Aerial Picture taken in March 2021 provided by FCC. Red line approximately indicates void still to be filled.