Proposed development "Newton Leys West"
1,100 houses proposed between Newton Longville and Newton Leys
PUBLIC MEETING
Organised by Newton Longville Parish Council
Monday 2nd November 7 pm
Due to Coronavirus the meeting will be online. There is a limit on how many may attend, so please register your interest as soon as possible. Use this link to register for the meeting, you will then receive an email within 24 hours with your invitiation.
A company called Willis Dawson, that has been involved in developments in both Milton Keynes and Leighton Buzzard, is promoting a site on the edge of Newton Longville, next to Newton Leys for development of 1,100 dwellings.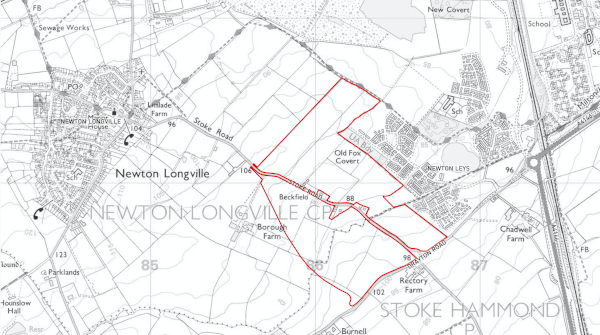 Willis Dawson will be attending the meeting to give details about their application and answer questions. Ideally we want questions submitted in advance of the meeting so it is more likely they may be answered at the meeting. Or you may email questions to the parish council office at This email address is being protected from spambots. You need JavaScript enabled to view it.
A summary of questions and answers will be included in the December/January issue of the Village Pump.
We have already asked Willis Dawson for more details and they have told us they "do not have any plans at this stage to submit a planning application". They have undertaken some technical work to inform their current proposals, but "have not commenced or commissioned the detailed technical work required, which will include a detailed transport assessment".
Willis Dawson propose a "link road" between the A421 and A4146, but at present it is unclear how this would be funded. Milton Keynes Council have estimated the cost of such a road would be £50m, but currently no-one is willing to fund this. It would also be dependent on the Salden Chase proposal going forward which is far from certain. Willis Dawson have said they believe such a road "is fundamental to the long term protection of Newton Longville and also in helping rejuvenate Bletchley"
Steve Heath has been working hard on the traffic implications of the proposals to present at the meeting.
Some more information about the proposal is on a website www.NewtonLeysWest.com created by the land promoters.