Vale of Aylesbury Local Plan (VALP)
Main Modifications Consultation
Comments must be submitted to AVDC by 5:15 pm on Tuesday 17th December
Following the consultation event we held on 3rd December we have produced an advice note with some points you may wish to use when making comments. If you would like a copy of this please email This email address is being protected from spambots. You need JavaScript enabled to view it.
There are significant and important changes proposed which will have a major impact on Newton Longville. When VALP is adopted it will be the template for future major housing development in our area for some time.
AVDC's proposals include allocating a site at Whaddon for 1,150 houses. They are calling this "Shenley Park", it is just north of Bottledump roundabout and west of Tattenhoe Park and Kingsmead in Milton Keynes. AVDC have policies to protect villages around Aylesbury from coalescence but don't seem to care about the villages in the north of Aylesbury Vale around Milton Keynes.
AVDC also considered sites at Salden Chase "Phase 2" and at Eaton Leys, as shown on the map below. Developers promoting those sites are likely to be making a case to the Inspector why their sites are better.
Background information
AVDC is preparing its Local Plan which sets out the scale and distribution of new development for the period 2013-2033. This plan is currently subject to an examination by an independent planning inspector who has identified the need to increase the level of growth in locations adjacent to Milton Keynes. The inspector agreed with AVDC that 500 more houses would satisfy his requirement, however AVDC are now proposing 1,150 houses.
The consultation closes at 5:15 pm on 17th December. For more details see AVDC website or search online for VALP.
Comments (called "representations") can be made on the Main Modifications as well as the associated Sustainability Appraisal and Habitats Regulations Assessment. Comments cannot be made on any other aspect of the Local Plan. Only valid representations will be forwarded by AVDC to the Inspector.
The Core Documents List is an assisting document that sets out all the documents relevant to the consultation. The main modifications proposed to VALP are summarised in the Summary of Main Modifications.
AVDC has produced further evidence that specifically relates to the Main Modifications. This can be viewed within the Core Documents List.
AVDC have also prepared Additional Modifications - minor changes that do not relate to the Plan's soundness any representation on these will not be forwarded to the Inspector.
Note we have no choice about when this consultation is being held. It is AVDC that have chosen to consult at this time of year.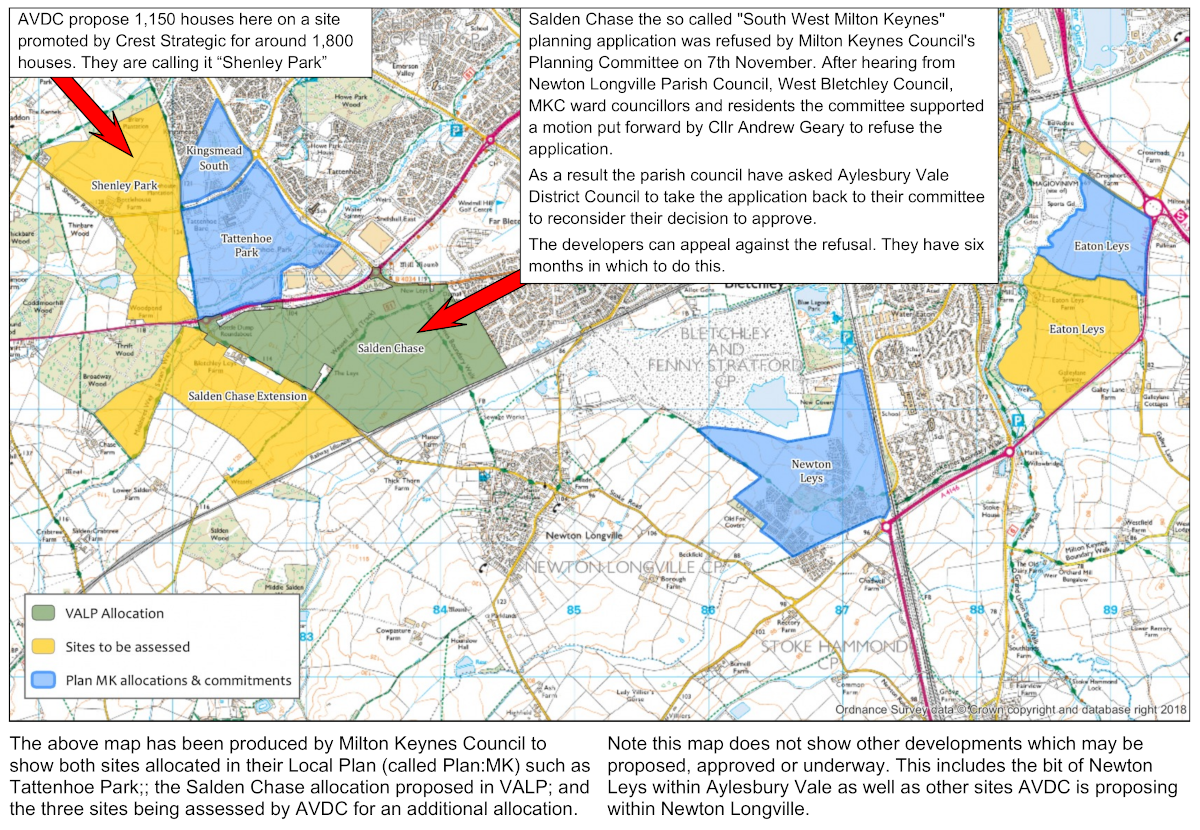 Newton Longville Parish Council